Talbot Crane Truck Hire
from as little as €100 per lift
Truck mounted crane available
Experienced, Reliable & Professional Service

We Accept Visa & MasterCard
Talbot Crane Truck Hire
Truck Mounted Crane Hire
from as little as €100 per lift
Experienced, Reliable & Professional Service
Transporting
Lifting
Loading & Unloading

We Accept Visa & MasterCard
Crane Truck Hire Services;
We can offer a full lifting solution for your requirements with truck-mounted crane hire, saving you the customer the additional cost of hiring a mobile crane
We specialise in transporting, lifting, loading and unloading of equipment / machinery / materials throughout Ireland.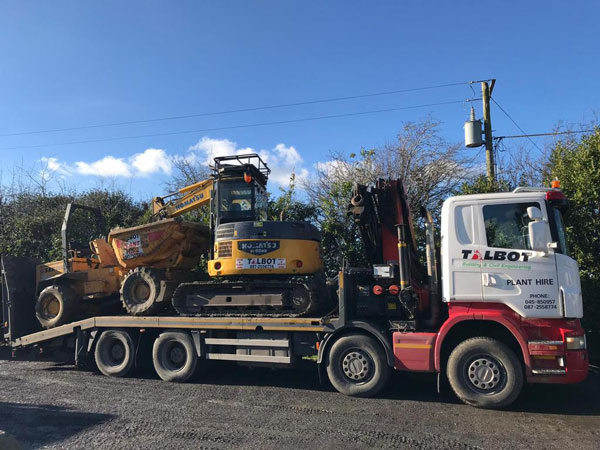 Some of the jobs we have completed to date are as follows;
• Lift and transport Boats and Marine Equipment at various Irish sea coast locations from Dun Laoghaire to Blacksod
• Garage Sign Lift & Erection onto the forecourt of branded car dealerships.
• Portable Cabin and Container lift, load, transport and unload.
• Lift and Move 1 to 5 Tonne Bags of Stone, Gravel, Sand etc from Garden Centres – Mini Dumpers & Diggers into back gardens etc
• All types of machinery from construction plant to farm machinery
• Stone and Slabs for Garden Centres & Domestic Householders
• Steel Transport and Erections for Building & Construction Industry
• Generators and Pumps – Tanks – Building materials – Scaffolding
• Work on installation of Car Wash Machinery at car garages throughout Ireland.
Our service provides delivery & collection of:
• Cabins
• Containers
• Modular Buildings
• Generators
• Small & large Plant Machinery
• Boats
• Signage
• Structural steel members
• Scaffolding
• Pumps & Tanks
• General Materials
• Factory Machinery & equipment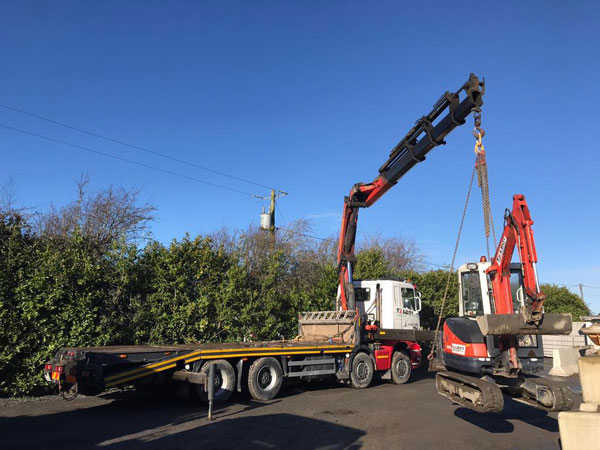 Vehicle specification;
• Our vehicles are equipped with Palfinger cranes
• Lifting capacity of 3,000kgs at 12mtrs.
• With a maximum lifting capacity up to 9,000kgs at 3mtrs.
• We are specialists in Loading and Self-loading
• Truck Flatbed length range from 7.5mtrs to 9mtrs
• Beaver tail bodies for machinery transport
We also provide onsite Installation & onsite relocation.
We can offer a full lifting solution to any job which will give the customer less costs & hassle.
All our drivers are fully trained & equipment fully certified.