Talbot On Site Screener Hire
Sort your materials on-site
We offer very competitive rates on soil screener hire
Experienced, Reliable & Professional Service
Suitable for all types of material
Clay, soil, stones, rocks, gravel, sand, etc
Request A Callback
Just leave your name and number and one of our team will get back to you

We Accept Visa & MasterCard
We have the material screener to suit you, like the TrommALL 2500GT or 3500TR …
TrommALL are mobile screener unit for all types of materials on-site. Manufactured in Ireland and designed to handle the toughest screening situations.
The machine is overbuilt to outperform its competitors in every field. The TrommALL Series are highly manoeuvrable and have been designed to comply with transport regulations.
If you need to rent / hire a mobile screening unit, call us on 045 850 957 or 087 255 8774 for the most competitive rates.
Suitable for screening all types of material on-site
C&D, TOPSOIL, STONES/ROCKS, WOOD CHIPS, GRAVEL, SAND, COMPOST, ETC.
IDEAL FOR SEPARATING MIXED WASTE
Looking for an on-site soil screener?
Mobile Screener Hire
#1 – We provide the following;
– Hire or Rental of material screener TrommALL 2500GT or 3500TR
– Nationwide Service
– We'll deliver and collect
– We can provide professional operators if needed
#2 – Waste management is the law!
We understand the importance of site excavation. All our work is carried out in accordance with the EWC (European Waste Catalog) & NCDWC (National Construction and Demolition Waste Council)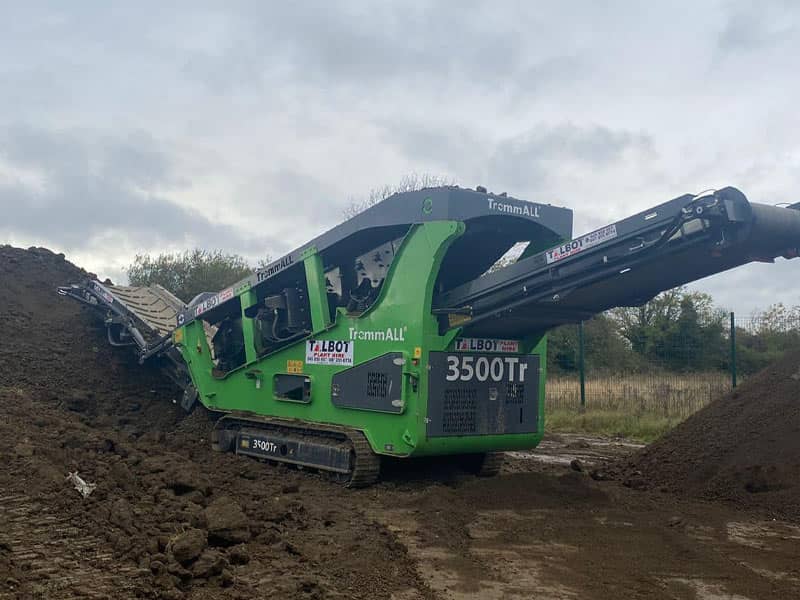 Project based C&D waste management planning
Applies to both public and private sector projects above certain thresholds
A 'cradle-to-grave' approach across all stages of a project from conception to completion
Waste audits which will improve information on waste flows
Appointment of C&D waste managers to oversee activities at site level

We hold a valid waste permit for all materials removed
Waste Permit Number
NWCPO-16-11794
How It Works;
The mobile screener unit can be towed behind jeep/van suitable for screening all types of materials on site. Ideal for separating mixed inert waste like topsoil, stone. green waste etc.
Min disposal offsite & area reducing purchases of new materials thus cutting down the costs.
Call Us on 045 850 957 or 087 255 8774 to discuss any queries or to book a day and time for nationwide collection/delivery of our Mobile Material Screening unit. Where possible we would require at least 1 days' notice of a booking but we understand how even the best laid plans can change in a moment so we try to be as flexible as possible and work around our customers' needs and requirements.